On March 27, 2012, WSSI joined volunteers from Cityline Partners, Transwestern and Fairfax County Planning and Zoning to remove trash and debris from Scotts Run, between I-495 and the Dulles Toll Road. Cityline organized the Scotts Run stream cleanup, which was part of the 24th Annual Potomac River Watershed Cleanup and Trash Free Potomac Watershed Initiative. These region-wide efforts are spearheaded by the Alice Ferguson Foundation to reduce trash and litter, as well as increase recycling, education and awareness of trash issues in the Potomac Watershed.
The team of 26 volunteers, including nine WSSI staff, removed living room furniture, several tires, wooden pallets, political signs, crates, metal building parts, and approximately 65 bags of loose trash from Scotts Run. A big thanks to everyone involved!
For more information on the Alice Ferguson Foundation and the Potomac River Watershed Cleanup, please visit:

http://fergusonfoundation.org.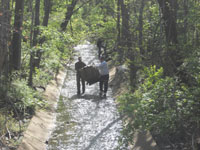 Volunteers pulled approximately 65 bags of trash from Scotts Run. Click on images above to enlarge.