| | |
| --- | --- |
| Vol. 23, No. 1 | February 9, 2015 |
Bull Run 6th Grade Contest Winners Visit WSSI
Wetland Studies and Solutions, Inc. welcomed a group of Bull Run Elementary School 6th graders, as well as their teachers and families, on Thursday, January 29th. Bull Run Elementary School was this year's Samsung's Solve for Tomorrow contest winners for the state of Virginia, earning $20,000 in technology for school use. The contest awards schools that raise interest the fields of science, technology, engineering and mathematics (STEM). Solve for Tomorrow national finalists and winners will receive $35,000 and $120,000, respectively, in technology grants. Bull Run Elementary School submitted a project proposing to install rain gardens and rain barrels to reduce stormwater runoff generated by the school's five teaching trailers.
During their visit, students received a tour of WSSI's building and grounds, focusing on the stormwater management technologies. This gave students the opportunity to see what a completed rain garden and cistern look like, perhaps informing the design of their own stormwater facilities. Students asked excellent questions such as what kind of plants are best in a rain garden and what happens to the rain garden when it gets cold in winter – a particularly apt question as it began to sleet during the tour. Students also met WSSI engineers, landscape architects, and scientists learning not only how varied and exciting STEM careers can be, but also some of the kinds of projects we work on day-to-day.
WSSI is proud to support students' interest in STEM fields and the schools that encourage it. Congratulations to Bull Run Elementary School and good luck in the national finals.
See the Samsung's Solve for Tomorrow website for more information on the contest
here
.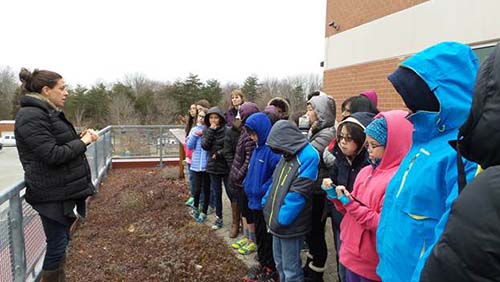 Landscape Designer, Leslie Bartlebaugh, discussing the WSSI green roof to Bull Run Elementary School 6th graders and their parents.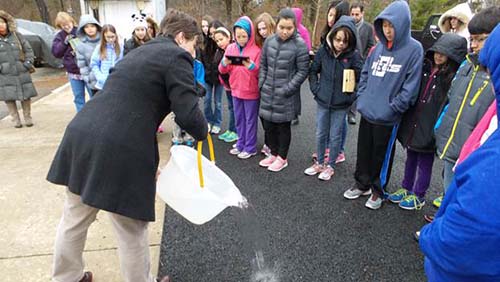 Engineer, Margaret McMenamin, demonstrating the infiltration properties of pervious asphalt in the WSSI parking lot.