| | |
| --- | --- |
| Vol. 20 No. 1 | January 31, 2012 |

NWP Expirations Reminder; Wounded Warrior Hunt; GIS Department Assists ABMC; Thirsty Duck Buoyant
Control Device; Fish Thriving in Big Rocky Run Stream Restoration; Revised Dam Safety Regulations; WSSI
Now Providing Grant Writing Services
Reminder: Nationwide Permits (NWPs) Expiring on March 18, 2012
---
As previously mentioned in Field Notes Vol. 19 No. 7, all Nationwide Permits (NWPs) issued by the U.S. Army Corps of Engineers (COE) will expire on March 18, 2012. If construction of your project will not be complete by this date, you can obtain a 1-year time extension if construction has commenced or the site work is under contract to commence prior to March 18, 2012. For a revised summary of the draft 2012 NWPs and proposed changes, click here.
WSSI Sponsors Wounded Warrior Waterfowl Hunt
---
On December 3, 2011, Wetland Studies and Solutions (WSSI) and helped coordinate with the United States Marine Corps Wounded Warrior Regiment to host combat wounded Marines at the 1st Annual White Hall Farm Wounded Warrior Hunt. The event, sponsored by WSSI, The Wildlife Foundation of Virginia, D.H. Griffin, MetroStar Systems, Hunt Country Wildlife Management Services, The Meurlin Group, N.F. Adams LLC, CCI Screenprinting, and Gobbler Down Custom Calls, provided an opportunity for combat wounded veterans to experience a day afield hunting waterfowl.
WSSI Provides GIS Services for American Battle Monuments Commission
---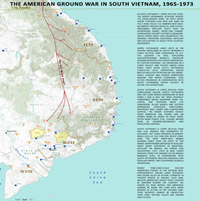 The Geographic Information Systems (GIS) department at WSSI had the pleasure and privilege to work on two unique projects for the American Monuments Commission (ABMC) this fall - a map of European Battle Cemeteries, and a map of Indo-China depicting elements of the Vietnam War.
Thirsty Duck Buoyant Control Device – A Way to Reduce Retention Pond Sizes!
---
The intent of the new crop of stormwater regulations is to encourage land planners and engineers to design sites that reduce the volume of stormwater runoff generated in the first place in order to protect downstream receiving waters.  This can be accomplished through the incorporation of Low Impact Development (LID) techniques and/or through on-site reuse programs.  While these are the preferred methods, site constraints can make the practicality of reducing the runoff volumes to sufficiently low levels difficult if not impossible to achieve.  Thus, providing additional on-site detention can be the only viable alternative. The "Thirsty Duck Buoyant Control Device" can reduce stormwater pond volume by 30-50%.
Virginia Dam Safety Regulations - Time Extended for Existing Dam Owners to Become Compliant
---
On December 22, 2011, the Virginia Department of Conservation and Recreation (DCR) revised the Virginia Impounding Structure Regulations (Regulations)1 by extending the Operations and Maintenance (O&M) Certificates for some dam owners by six years to allow additional time to construct necessary upgrades, which is helping to reduce the burden of the revised Regulations. To view the latest revision to the Regulations, click here.
Tributary to Big Rocky Run Restored – One Year Later and the Fish are Thriving!
---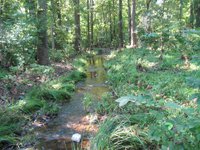 Big Rocky Run
(post-restoration)
In May 2010, Wetland Studies and Solutions, Inc. (WSSI) and Fairfax County completed the restoration of a small tributary to Big Rocky Run just downstream of Braddock Road in Fairfax County. Prior to the restoration, Fairfax County staff noted that based on visual observations, the stream did not support any fish populations. However, a post-restoration fish survey was recently conducted by the County in November 2011, which identified 15 species of fish in the restored stream reach, including a locally rare species!
Service Spotlight: WSSI Now Providing Grant Writing Services
---
At WSSI, we believe in a holistic project approach, including helping our clients find creative funding solutions for natural and cultural resource restoration and enhancement projects. Therefore, we have recently expanded our service offerings to provide comprehensive grant writing, research, and management services for public and non-profit agencies, as well as eligible businesses and individuals.
Reading someone else's copy of Field Notes?
Click here to subscribe to our newsletter!
* * * *
About Wetland Studies and Solutions, Inc. (WSSI):
WSSI is the leading provider of natural and cultural resource consulting services in Northern Virginia. The firm has worked on a total of over 2,300 sites, comprising 195,000 acres, and has created hundreds of acres of wetlands and restored miles of streams. Our team of 70+ engineers, scientists, archeologists, ecosystem technicians, GIS/survey/compliance and technology/training specialists, and administrative staff yield a unique combination of disciplines focused on wetlands and water resources and provide creative solutions for integrating the constraints of economics and land plan requirements with local, state, and federal environmental regulations. For more information about WSSI, visit our Web site at www.wetlandstudies.com.