Thanks to the generous donations of over $6,000.00 from our industry partners, friends and family, Wetland Studies and Solutions, Inc. was able to deliver in excess of $14,000.00 of food, water and supplies to the victims of Hurricane Sandy. A complete list of supplies that were provided to the residents of Ocean and Monmouth Counties, NJ is shown below:

Clothing and Cold Weather Gear
149 hats
134 pairs of gloves
50 hoodies
23 long johns
56 packages of underwear (3 to 8 per pack)
43 packages of socks (6 to 10 per pack)
89 pairs of work gloves
Food & Water
2 pallets (120 cases/3840 bottles) of water
276 cans of tuna
31 packages of bread
32 bulk-size jars of peanut butter
47 packages of soups/noodles/ramen/etc.
56 bulk-size packages of crackers/snacks
26 packages of coffee/cocoa
12 jars of jelly
First Aid Supplies
129 bottles of medicine/ointment
6 boxes of exam gloves
858 travel size toiletry items
Baby/Infant Supplies
38 onesies
25 boxes of diapers
38 packages of baby food
18 boxes of wipes
36 bottles of powder formula
Pet Care
7 large bags dog food
3 large bags cat litter
8 large bags cat food
Other Supplies
156 batteries
24 packages of paper towels
59 packages of toilet paper
17 boxes of trash bags
14 boxes of plates/cups/plastic utensils
24 packages of soap/hand sanitizer
46 boxes of feminine products/adult diapers
359 toys/trucks/Hot Wheels/figurines/puzzles/etc.
Special Thanks
Dr. Sentz, Griffin and Tudor - for donating toothbrushes, toothpaste and floss
Faculty, Students and Families at Cedar Point Elementary School - for donating clothing and other basic necessities
Family & Cosmetic Dentistry - for donating toothbrushes, toothpaste and floss
Gainesville Garage - for donating a las-minute replacement trailer (when our broke!)
Gainesville Pediatrics - for donating toothbrushes, toothpaste and floss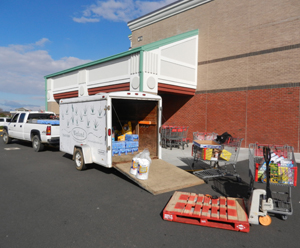 Click on image to view slideshow