2012 Aerials Have Arrived!
---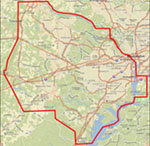 Wetland Studies and Solutions, Inc. (WSSI) is pleased to announce the arrival of the February 2012 aerials. This new imagery was flown exclusively for WSSI on February 12 and covers over 985 square miles of Northern Virginia (Map 1). These digital aerials are the latest addition to WSSI's extensive collection of digital land data for the entire Washington DC metropolitan area, which spans as far back as 1937!
Reston Kids' Trout Fishing Day – Another Success!
---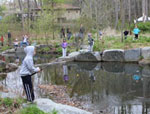 Approximately 300 children under 12 years old, with parents and siblings in tow, turned out for the 2nd Annual Reston Kids' Trout Fishing Day on March 31 in Reston, Virginia.
It's Pogonia Season!
---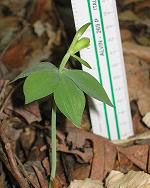 Summer is on its way and WSSI is gearing up for another season of small whorled pogonia (Isotria medeoloides) surveys. If you are planning to develop property in Northern Virginia that has mature hardwood forest with an open understory, your site may need a survey for the small whorled pogonia. Unfortunately, the field survey "window" for small whorled pogonia is narrow and can only be conducted between June 1 and July 20. So schedule now and avoid critical delays in obtaining your wetlands permit.
Submerged Aquatic Vegetation Survey Window - Now Open
---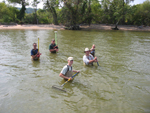 If you are undertaking a project that will impact tidal waters, you will be required to undertake surveys to document the presence or absence of submerged aquatic vegetation (SAV) within your project area. Example projects include boat piers/docks, marinas, and channel dredging operations.
Service Spotlight: WSSI Archeology
---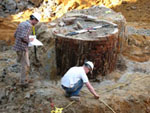 Thunderbird Archeology has enjoyed a notable presence in the Cultural Resource Management (CRM) field since 1981. The firm was acquired by WSSI in 2004, beginning a new phase in Thunderbird's three-decade history of providing expert CRM consultation in the private and public sectors. Thunderbird has undertaken over 1,500 projects in the region, including some of the largest developments in Northern Virginia.
WSSI Archeologists First to Excavate 18th Century Tavern in Loudoun County
---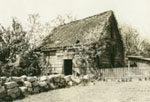 Archeologists from WSSI recently completed a Phase III archeological data recovery on the Kincora development property in eastern Loudoun County. This project proved unique as it was discovered that the site was home to an 18th century ordinary, which was a term often used to describe taverns, inns, and public houses during the 1700's.
Winter Weather Considerations for Implementing Pervious Pavement
---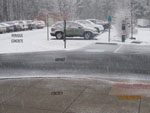 As part of WSSI's ongoing focus on sustainability and environmental design, we are constantly evaluating and often implementing new products and techniques at our Headquarters facility in Gainesville, VA. During a 2008 parking lot retrofit, nearly 17,000 square feet (s.f.) of Gravelpave2 parking were converted to pervious concrete through a partnership with the Northern Virginia Concrete Advisory Council. This was followed more recently, in 2010, by the replacement of over 8,000 s.f. of gravel parking with porous asphalt in partnership with Chemung Contracting Corporation. These retrofits have allowed us to assess the functionality of each pervious system under a wide range of climatic conditions.
WSSI Participates in Potomac River Watershed Cleanup
---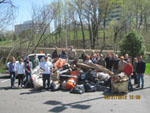 On March 27, 2012, WSSI joined volunteers from Cityline Partners, Transwestern and Fairfax County Planning and Zoning to remove trash and debris from Scotts Run, between I-495 and the Dulles Toll Road. Cityline organized the Scotts Run stream cleanup, which was part of the 24th Annual Potomac River Watershed Cleanup and Trash Free Potomac Watershed Initiative. These region-wide efforts are spearheaded by the Alice Ferguson Foundation to reduce trash and litter, as well as increase recycling, education and awareness of trash issues in the Potomac Watershed.
CivilTraining, LLC Supports 411th Brigade, U.S. Army Reserve
---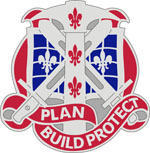 The 411th Engineering Brigade, U.S. Army Reserve based in New Windsor, New York deployed to Afghanistan in April 2012 in support of Operation Enduring Freedom. CivilTraining, LLC (a division of WSSI) is proud to provide training, logistics and reach-back support for the men and women of the 411th.
Total Maximum Daily Load (TMDL) Workshop
---
The Tri-County Soil and Water Conservation District (SWCD) and the Mid-Atlantic Chapter of the International Erosion Control Association (MAC-IECA) will be co-hosting a one-day workshop to discuss TMDLs and the impacts they will have on the development community.